Periodontal Laser Therapy
At Dr Christopher J. Fotinos Cosmetic & General Dentistry in Orange, we're proud to offer our patients a comprehensive menu of treatments that utilize the most sophisticated dental technologies and treatments. Among these is periodontal laser therapy, which allows us to treat patients suffering from severe gum disease or patients who have gummy, uneven smiles with a safe, virtually painless treatment.
What Is Periodontal Laser Therapy?
Periodontal laser therapy replaces the traditional scalpel and sutures needed for surgery with a dental laser set at a specific wavelength to target and remove gum tissue. Procedures performed with a laser have many advantages over traditional surgery.
Benefits of Periodontal Laser Therapy
When performed by skilled dental professionals, like Dr Fotinos and Dr Rosales, periodontal laser therapy has many benefits over traditional surgical methods.
In addition, laser therapy is almost painless, which means very little anesthetic is needed. Typically, a topical numbing spray is all that's necessary. This eliminates the costs and complications that can be associated with IV sedation anesthesia, which is required during traditional surgeries with a scalpel.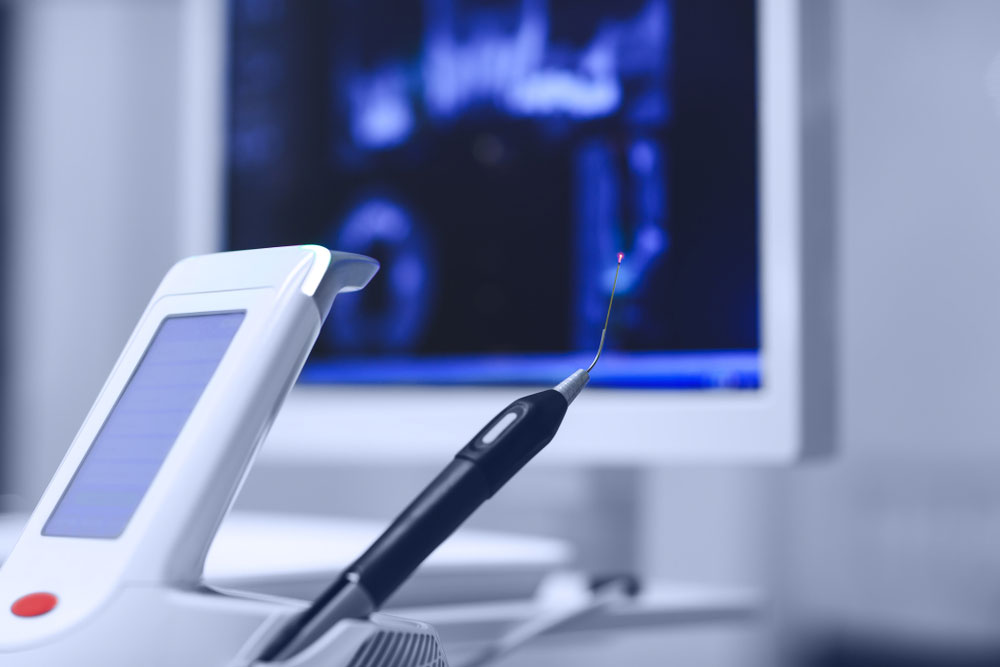 When Is Periodontal Laser Therapy Used?
Periodontal laser therapy primarily replaces the scalpel during two procedures:
1. Gingivectomy – a procedure that removes diseased gum tissue in patients with severe periodontal disease or tissue growth over third molars
2. Gingivoplasty, also known as gum contouring surgery or gum lift – a procedure that reshapes or contours the gum line for cosmetic reasons.
How Much Does Periodontal Laser Therapy Cost?
The cost of periodontal laser therapy varies depending on the reason for treatment and the patient's dental plan. Our office staff can work with your insurance company to help you determine the costs before your treatment.
Learn More About Laser Therapy for Periodontal Disease
If you have periodontal disease or are unhappy with the appearance of your gums, periodontal laser therapy might be right for you. We welcome you to schedule a consultation with Dr Fotinos or Dr Rosales to find out whether periodontal laser therapy is right for you. Please contact our dental practice in Orange, CA today.

Includes a full series of x-rays, intra & extra oral photos, a comprehensive dental exam, regular dental cleaning, oral cancer screening, sleep apnea screening, and an orthodontic assessment.
Request Complimentary Consultation
This is a 30 minute appointment to discuss a current condition, cosmetics or emergency treatment.