Living with missing teeth not only makes it difficult to eat, drink, and speak normally, but can also change the way you look and diminish your confidence. If you're missing one or more adjacent teeth, the simplest option for restoring your smile might be a dental bridge.
A dental bridge affixes to neighboring teeth and replaces one or more adjacent missing teeth with a single dental appliance.
Removable Bridge or Partial Denture
This type of bridge can be removed because it attaches to surrounding teeth with cosmetic clasps, rather than crowns or implants. Placement is less invasive, and removable bridges typically cost less.
Bonded in place with crowns on natural teeth or dental implants, this permanent option looks and feels more natural than a removable bridge and becomes part of the existing dentition and is beautiful cosmetically.
What to Expect from a Fixed Dental Bridge Procedure
The placement of a dental bridge requires just two appointments. During the first appointment, the anchor teeth are numbed and prepared for bridge placement. This involves removing a portion of the outer layer of enamel so that the bridge's crowns will fit comfortably over the anchor teeth. The prepared teeth are digitally scanned and this is sent to the dental laboratory for the fabrication of your permanent bridge. A temporary bridge is fabricated in the office and cemented into place so the teeth involved will be stable, look nice and so the gum tissue may heal properly for the adaptation of the new final bridge. Typically, the permanent bridge is fabricated by the dental lab in 7-10 days and delivered to the dental office.
During the second appointment, the temporary bridge will be removed, an antibacterial-desensitizer is placed on the teeth and we'll fit the patient with their permanent bridge. Once the patient is fully satisfied with the look and feel of the bridge, it will be bonded into place.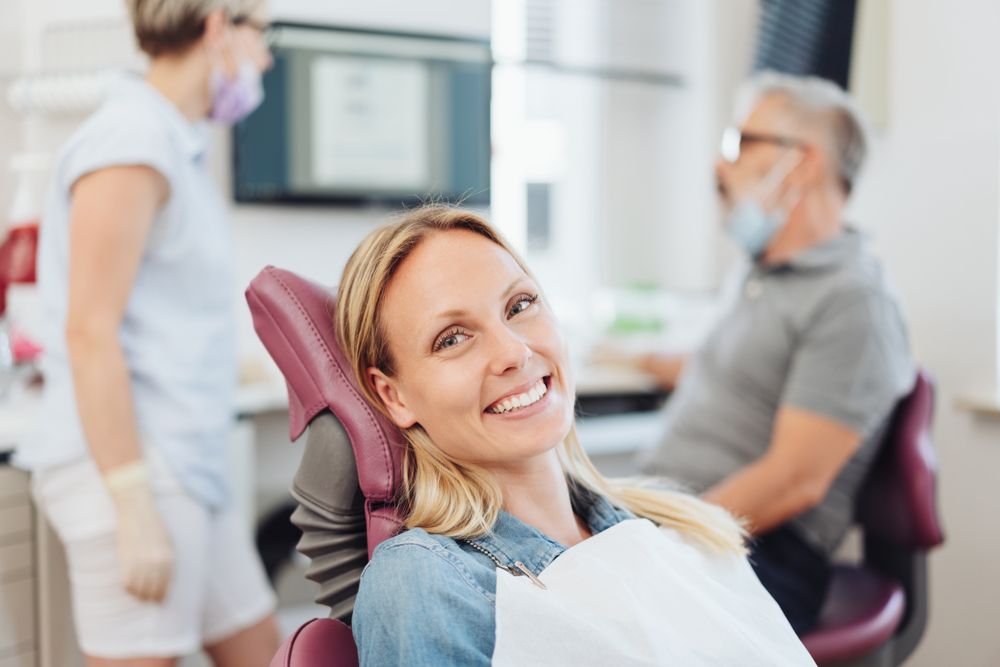 How Much Does a Dental Bridge Cost?
The total cost of a dental bridge varies based on the type of bridge and the extent of work required to prepare a patient's mouth for placement. The amount for which the patient is ultimately responsible depends on the patient's dental insurance coverage. Prior to your treatment, our office staff can work with you and your insurance company to provide you with an estimate of the costs to be expected.
Schedule a Dental Bridge Consultation in Orange, CA
If you're missing one or more teeth, schedule a smile restoration consultation with Dr Fotinos or Dr Rosales. Our dentists will perform a complete evaluation of your teeth and gums and provide you with a variety of options to restore the look and function of your smile. Schedule an appointment at Dr Christopher J. Fotinos Cosmetic & General Dentistry in Orange today.

Includes a full series of x-rays, intra & extra oral photos, a comprehensive dental exam, regular dental cleaning, oral cancer screening, sleep apnea screening, and an orthodontic assessment.
Request Complimentary Consultation
This is a 30 minute appointment to discuss a current condition, cosmetics or emergency treatment.