At Christopher J. Fotinos Cosmetic & General Dentistry, we offer our patients cosmetic crowns as part of our comprehensive cosmetic dentistry services. When restoring or making over a smile, crowns can be a great option to create the perfect look. Dental and cosmetic crowns support and strengthen a weakened, natural tooth. They're also an excellent option for hiding cosmetic defects such as dark amalgam fillings, chips,cracks or misshapen teeth.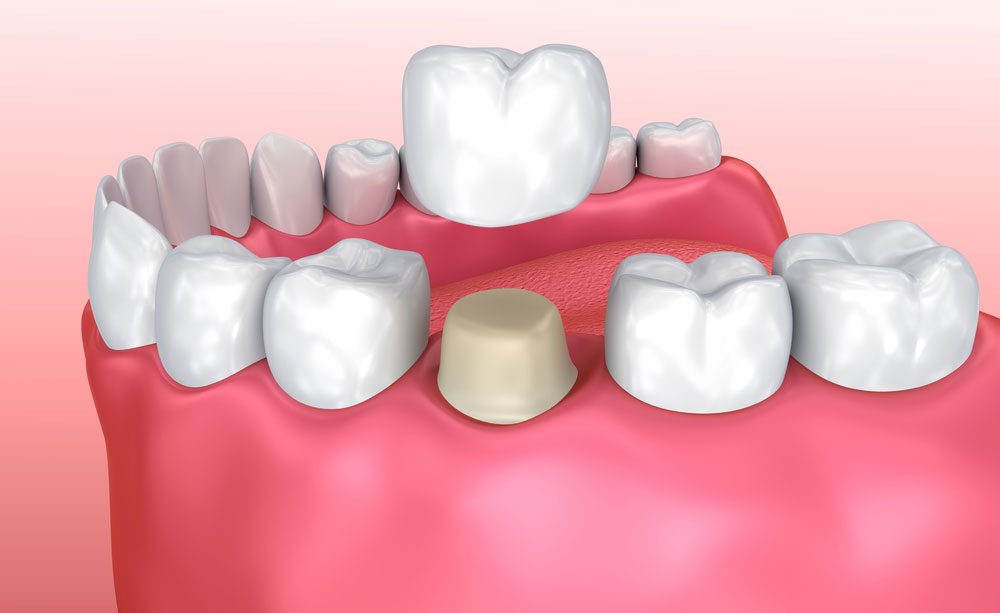 What Are Cosmetic Crowns?
A dental crown, also referred to as a cap, corrects both functional and aesthetic concerns of a tooth. A crown is a durable and designed to fit over the entire visible portion of a tooth. Crowns are permanently bonded coverings which are comprised of solid materials such as porcelain, sculpted to resemble natural teeth, and designed to blend in with surrounding teeth.
What to Expect During a Dental Crowns Procedure
Most crowns require two appointments. During the first appointment, we'll prepare your tooth to receive a crown. This involves removing any tooth decay or cracks and creating new architecture to the exterior portion of the tooth so that a crown will have good retention and fit comfortably. A digital scan of the tooth is taken and sent to the lab that will create a hand crafted crown designed specifically for the patient. We will then place a temporary crown to protect the patient's tooth until the permanent crown can be placed in a week or so. 
At the second appointment, we'll remove the temporary crown and clean the tooth with antibacterial solution. The permanent crown is then bonded with special dental adhesives and polished for a smooth comfortable fit.
Ceramic or porcelain-based crowns have the most natural color, strength and retention, which is why they're the most common cosmetic crowns used on all teeth. There are also crowns made from gold which lack the cosmetic component, but have good strength and longevity.
Are Cosmetic Crowns As Strong As Regular Crowns?
The answer is yes. The same types of porcelain crowns that are used for cosmetic procedures are usually those used in medically necessary dental procedures. The ceramic crowns, commonly used on front teeth, are the most aesthetically pleasing due to the types of porcelains used to create a natural smile, but differ slightly in strength and still have tremendous longevity over time. There are many types of porcelain's available depending on what your oral condition requires and Dr Fotinos will discuss which cosmetic crowns will be the best choice for you based on your aesthetic goals and dental needs.
How Long Do Cosmetic Crowns Last?
With the proper care, crowns can last a lifetime. While they don't need much beyond the regular brushing and flossing that natural teeth require, it's especially important to avoid activities that would put extra wear and tear on your new crowns. Refrain from chewing on hard objects like ice, hard candy, or the back of a pen. If you suffer from bruxism (grinding teeth or clenching your jaw), you should talk to Dr Fotinos about addressing the problem with a night guard.

Includes a full series of x-rays, intra & extra oral photos, a comprehensive dental exam, regular dental cleaning, oral cancer screening, sleep apnea screening, and an orthodontic assessment.
Request Complimentary Consultation
This is a 30 minute appointment to discuss a current condition, cosmetics or emergency treatment.