Dental Implants: Comprehensive Placement and Restoration
Due to injury or age, losing teeth is a natural part of life. Missing teeth can cause discomfort, change your appearance, make eating difficult, and even affect your speech. In addition, failing to replace a missing tooth can result in jaw bone deterioration and malocclusion. There are several treatment options for replacing missing teeth, but the most comfortable and natural-feeling are dental implants.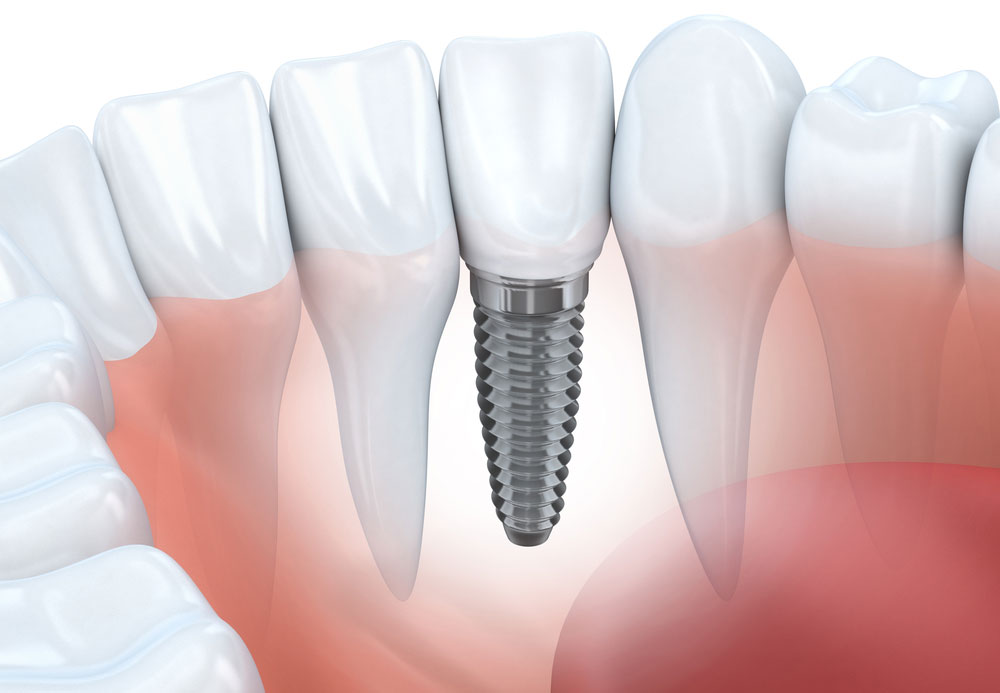 What Are Dental Implants?
Dental implants are artificial roots that are similar in shape to natural tooth roots. They are used to support single crowns, bridges, and dentures for areas where a patient is missing one or more teeth.
What Are the Benefits of Dental Implants?
There are many reasons why patients choose dental implant crowns over traditional dentures and bridges when replacing a single tooth. The primary benefits include the following:
What's the Process for Getting Dental Implants?
1. Diagnostic Phase: Am I a Candidate for Dental Implants?
During the diagnostic phase, Dr Fotinos or Dr Rosales will determine whether the patient is a candidate for implants. Candidates for dental implants must generally have good, overall dental health, be free of tooth decay, and free of periodontal disease. Most importantly, dental implant candidates need to have a wide enough and tall enough jaw bone to support an implant. To determine whether the patient's jaw bone can support an implant, we'll take a 3D x-ray (CBCT) that allows the dentist to assess the patient's bone structure. This process is safe and can be completed in just a few minutes. This scan is then input into a dental design software program to create the architecture for your treatment and determine areas of ideal bone for implant placement.
2. Surgical Phase: Artificial Root Placement
Once we've determined that the patient's jaw bone can support a dental implant, the first step is the placement of the artificial root. This requires a minor surgical procedure and recovery period. During the healing period, osseointegration (the incorporation of the artificial root with the bone) takes place. The success of the osseointegration process can vary depending on the individual patient's response to the artificial root.
Patients often wonder whether there is any pain associated with implants. Similar to other dental treatments, we do anticipate minimal discomfort. If a patient experiences any discomfort, ibuprofen and/or acetaminophen typically provide adequate relief. Most patients recover within a few days, but the bone integration following artificial root placement can take between four and six months.
3. Restorative Phase: Enjoy a Smile That Looks and Feels Like Your Own
The final phase of receiving a dental implant involves the placement of a permanent crown, which is connected to the implant body by a connector, called an abutment. The crown will be matched to blend seamlessly with the patient's adjacent teeth and existing crowns. The new crown will function normally and feel natural in the mouth. During this phase, Dr Fotinos and Dr Rosales will also work with the patient to optimize the longevity of the dental implant by demonstrating specific oral hygiene techniques.
How Much Do Dental Implants Cost?
The cost of dental implants will vary based on the extent of the treatment needed and the patient's dental plan. We can work with you and your insurance company to help you determine the cost of implants prior to your appointment and phase treatment according to your needs.
Schedule a Dental Appointment for Teeth Replacement in Orange, CA
If you're missing one or more teeth or have an existing ill fitting denture, you don't have to live with an altered appearance or discomfort. At Dr Christopher J. Fotinos Cosmetic & General Dentistry in Orange, CA, our dentists specialize in smile restoration. We offer a range of options for replacing missing teeth, and we'll work with you to determine the best treatment plan to fit your budget and help you achieve your smile goals.
Post-Op Care for Dental Implants

Includes a full series of x-rays, intra & extra oral photos, a comprehensive dental exam, regular dental cleaning, oral cancer screening, sleep apnea screening, and an orthodontic assessment.
Request Complimentary Consultation
This is a 30 minute appointment to discuss a current condition, cosmetics or emergency treatment.